This guide is for all businesses that produce and dispose of any waste. We will go through the different ways of disposing of your business waste. What the law says you must do to dispose of any waste from your business. And finally, the penalties for disposing of waste illegally.
The Environmental Protection Act 1990 requires all businesses to have a 'Duty of Care' over the waste they produce. This means that you as a business owner have a legal responsibility to make sure your business waste is disposed of correctly.  Also, you have extra responsibilities if you are dealing hazardous waste.
Overall, to abide by the law you must make sure that all waste from your business is kept secure until it is collected. Anyone collecting waste from your business must be a licensed waste carrier, whilst keeping records of proof that your waste has indeed been collected by a licensed carrier. Furthermore, you must always make sure that a waste transfer note is completed.
What is business waste? And how to dispose of it correctly?
Any waste produced by a business activity is business waste. Business waste is items that a business no longer requires and needs to get rid of such as: paper, food waste, packaging, kitchen waste, and general dry non-hazardous waste. This can come from shops, pubs, construction, demolition, industrial, business premises, agriculture, schools or manufacturers.
To dispose of your waste correctly you must make sure all waste from your business is kept secure. Anyone collecting your waste must be licensed to carry waste. Keeping a record proving that a licensed waste carrier collected it. It's worth stressing that it's against the law to get rid of your waste from your business by putting it into a street litter bin.
Or, using the Council's domestic collection service. Furthermore, you can't take your business waste to a Household Waste and Recycling Centre. It will not be accepted and you could get a criminal record.
Hazardous Waste and Electric Waste
Many businesses produce waste that is harmful to the environment or to humans. Examples of hazardous waste include asbestos, chemicals, batteries, solvents, pesticides, oils, and electrical items (i.e. fridges, freezers, and WEEE). If your business produces any of these hazardous waste, you should contact the Environmental Agency for advice.
You must describe and classify your business waste before you dispose of it. Classifying your waste will help you  know the best practice of how to handle it and complete the necessary paperwork. Information for the disposal of hazardous waste includes: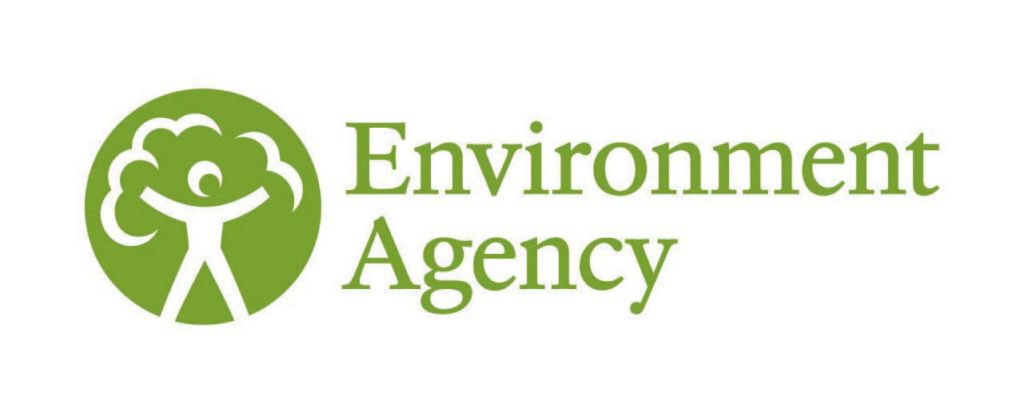 • Waste classification code
• The type of premises or business where the waste was produced
• The name of the waste
• The process that produced the waste
• A chemical and physical analysis
• Any special problems, requirements or knowledge related to the waste
You can check the waste code associated with your type of waste using the LoW (List of Waste) or EWC (European Waste Catalogue). Also, many products have orange and black danger symbols or red and white hazard pictograms, to indicate that they are hazardous. It's worth noting, that it is illegal to mix hazardous wastes. You can seek advice from a specialist waste contractor.
What is a licensed waste carrier?
A licensed waste carrier is a company which holds a special license and is registered on the Environment Agency's Public Register. The company should provide you with a 'Duty of Care Waste Transfer Note' for every collection they make. A waste transfer note must contain information like: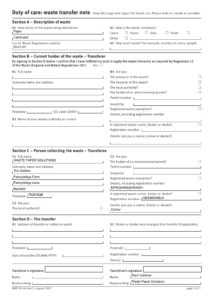 • Name and address of the business
• Where the waste has come from
• Name, address and Environmental Agency registration number of the company collecting the waste.
• The type and quantity of waste removed
• The type and number of containers
• The date and time of the transfer
A fully licensed waste carrier company should provide you with all of the necessary paperwork. An example of a waste transfer note can be seen at the side.
What happens if I don't obey the law?
If you are found to be disposing your waste illegally you will be prosecuted. Remember, it is a criminal offence to: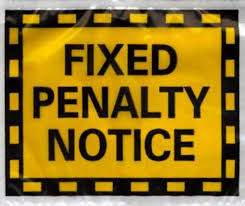 • fail to contain your waste.
• use an unlicensed waste carrier.
• transfer waste without a waste transfer note
• fail to keep waste transfer notes for at least two years.
• put your waste in a household bin.
• use the council's household waste collection service
• fly-tip
A fixed penalty notice for £80 can be issued if you fail to comply with any of the following legal requirements. Alternatively, for those with a variety of other offences, may be prosecuted with a fine of £50,000 or 12-months imprisonment.
Remember
There are a number of steps that should be followed to ensure that you dispose of your waste legally:
Check waste carrier's licenses.
Don't use a passing 'man and van' service.
Get a waste transfer note.
Keep all related paper work for a period of two years.
Don't put your business waste out with your household waste.
Use a trade waste facility to dispose of your waste. Do not use recycling facilities which are for householders because the act of leaving trade waste at such sites is a criminal offence.
Any Questions?
If you have any questions please get in contact with us as we would be happy to help and provide advice on any issues you might have.
Call: 01924 400056
Email: info@adcpropertysolutions.co.uk
Note: this blog is only an introduction to duty of care requirements. It cannot be relied upon as legal advice. For further information please contact the Environment Agency.