A great solution for home composting
Looking for an easy way to start compositing? The HOTBIN composter might be for you! The HOTBIN composter steams at up to 60°C which, speeds up the process of producing compost in just 30-90 days. It also comes with a number of useful accessories to help produce your own rich crumbly compost.
Simply add any waste from cooked food to garden waste then add some bulking agent and shredded paper to keep the air flowing inside the bin. It's fast, efficient, easy to get started and keeps on working right through winter when all other methods become useless. To order your HOTBIN composter feel free to give us a call on 01924 400046. You can also have a look at our HOTBIN composter guide here.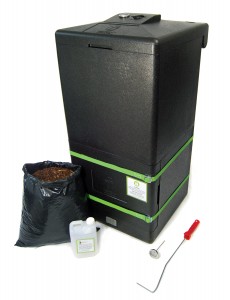 What's included?
Cam straps, Lid thermometer, Kick start bottle, Raking stick,
Bulking agent (25 Litres) and Internal thermometer
For only £185
Delivery
Courier is XPD Express
5-14 working day's delivery – please note this might be longer during the busy periods
Tracking numbers will be provided by email
Cost included delivery to UK Mainland address only
Certain areas outside the UK Mainland are subject to additional delivery charges so please call us on 01924 400056 for an exact price