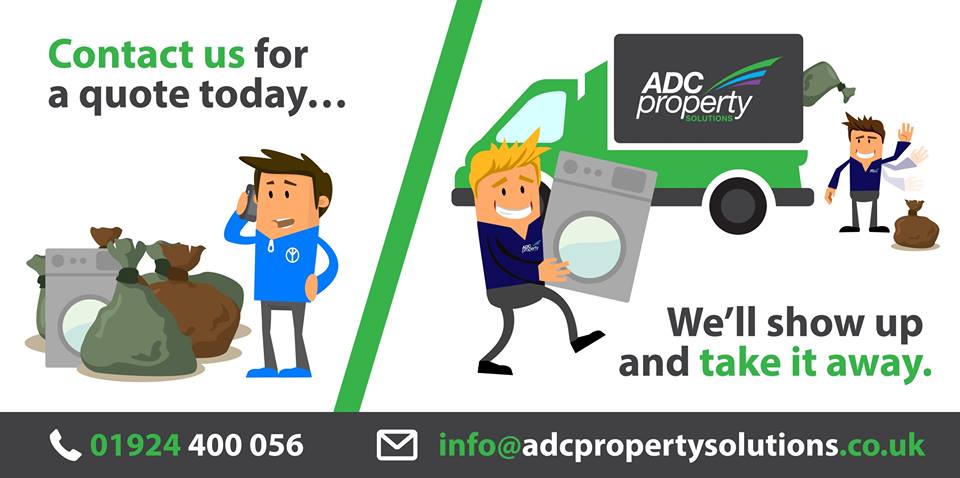 Why hire a skip in Halifax? at ADC Property Solutions we offer an alternative to skip hire. We have a professional team of staff who come to your property, load your waste on to our custom-built trucks, leaving you to pay for only the items we take, not an empty skip.
Problems With Skip Hire
Skips are often measured in cubic yards, which is great when your dealing with straight or square shaped items, but when you are dealing with awkwardly shaped sofa or many different shaped items, it's hard to figure out what type of skip you need, leaving you with a skip size that is either too small or too large for your requirements.
Then there is the cost of supplying a skip. If you want the skip parked on a public highway, like a road, then the skip hire company will have to obtain a permit from the local council, which can often add extra expense to the skip itself.
Finally, once you have the skip delivered, trying to get someone to collect it the same day or at a time convenient to you can leave you frustrated and fed up, as it will often be diaried in to collect at a time suitable to the company.
Advantages To Our Rubbish Removal Service
Our waste removal service in Halifax, offers a great alternative to traditional skip hire. Not only do we do all the heavy lifting and loading, but we break all the items down on to our custom-build trucks, meaning you only pay for the waste we take away and as the rubbish is removed the same day, you don't have to wait a week to have you drive free for use.
Unlike other skip hire companies we can also accommodate hazardous items such as electrical appliances, batteries and gas bottles.
So if you are looking for a company to remove your rubbish in Halifax call us now on 01924 400056 or email:info@adcpropertysolutions.co.uk
---
Excellent services as always Steve Elliot