So, you have recently finished your house spring cleaning and have collected a load of unwanted items that you need to get rid of quickly. For many, they will search for a skip hire in Huddersfield as it's an effective way for disposing of all types of house waste. People ask us frequently about skip hire in Huddersfield and the benefits of the service. Here at ADC, we stress to all our customers that going straight for a skip hire service in Huddersfield is not always the right decision.
Skip hire in Huddersfield, do you need a skip?
When getting rid of your waste, you do have a couple of options other then using a skip hire service including council collections, charity shops, the local tip and an alternative to skip hire service.
Charity Shop – Donating is the easiest way to get rid of your unwanted items. Some charities can even offer you a free collection service. However, donated items need to be good quality as they will need to be sold.
Council Collection – Most local Councils provide a collection service for bulky household items such as furniture and DIY waste. The service can be cost effective as well as convenient as they can collect items from outside your home.
Council Tip – Once you have cleared your property or unwanted items, you could take it yourself to a local council tip. You can get rid of a variety of waste all in one place from wood and timber to general waste. Please be aware that many will not accept waste taken in a van.
Local to the area – Council Tips in Huddersfield
Before considering using the council tip, you should take a look at where your local council tips are located. Below is a selection of council tips within the Huddersfield area.
However, over the last few years many council tips have introduced new controversial rules and regulations. This has made it more difficult for householders to get rid of their waste. Below, are a few examples of the new controversial rules introduced by council tips in Huddersfield.
An Alternative Skip Hire Service in Huddersfield
Hiring a skip hire alternative is a great way to get rid of large amounts of construction, demolition and household waste. We believe this to be the best service when getting rid of your household waste, which is why we offer our own alternative to skip hire service. You just show our operatives what's to go and we can remove it for you from any location.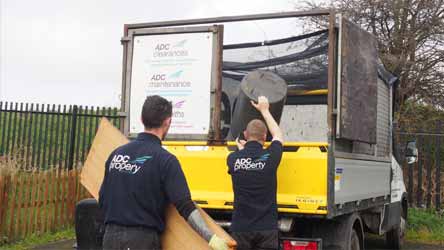 The service even does all the lifting and carrying for you. Also, we can collect a variety of hazardous waste such as electrical, oils, gas bottles, chemicals and batteries.
The key benefit of this service over a traditional skip hire service is that you will only pay for the quantity of waste taken and won't be caught out ordering a skip that is too large or too small for your requirements. For more information on our clearance service, you can visit here. Alternatively, you can send us a photo of your waste through our contact form so that we can give you an estimated cost.